December 06, 2017 11:50 AM EST
The Pew Research Center, a nonprofit think tank in Washington, D.C., asked nearly 43,000 people in 38 countries around the globe whether or not they thought life was better today than it was 50 years ago.
A majority of people living in 20 of the countries polled thought life has improved - including in Vietnam, India, South Korea, Japan, Germany, Turkey, the Netherlands, Sweden, Poland, and Spain.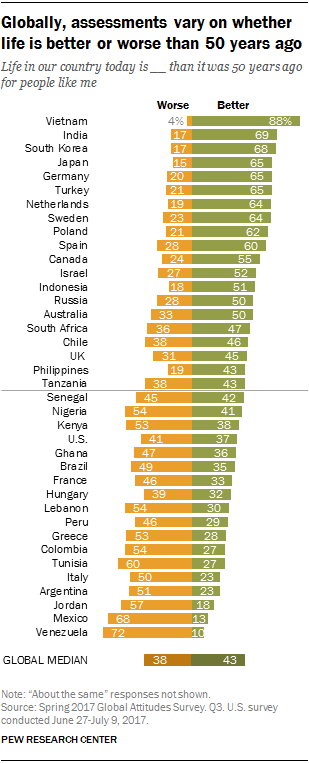 But the United States was not among them. The greater percentage of American respondents, 41 percent, said they feel life is worse today than 50 years ago. Only 37 percent of Americans thought life was better now.
The U.S. joined 17 countries in which people said they were actually worse off than half a century ago, including Senegal, Nigeria, Kenya, Ghana, Brazil, Lebanon, Venezuela, Mexico, Jordan and Argentina.
According to the report more educated people and people who are more upbeat about the state of their economies are likelier to say that life in 2017 is better than in 1967.
"Some of the most positive assessments of progress over the past 50 years are found in Vietnam, India and South Korea," the PEW report found. "All societies that have seen dramatic economic transformations since the late 1960s, not to mention the end of armed conflict in the case of Vietnam. A majority in Turkey also share a sense of progress over the past five decades."
Do you think life in the US is better today than it was 50 years ago? Let us know in the comments below.